How to optimise your company's e-commerce checkout
Tim Linssen
Co-founder & VP of Product
Quiqup
8 November 2023
Customers have plenty of options for where to purchase their products from. E-commerce businesses spend a lot of money and effort attracting customers to their websites.
While many areas of your website can be optimised, in this post, we will be having a closer look at what can be done to improve your website conversion rate.
Enhancing your checkout process is a crucial element of e-commerce operations. This entails implementing strategies that simplify the steps customers take to complete their online purchases. The objective is to establish a seamless and user-friendly process, resulting in reduced friction, lower cart abandonment rates, and, ultimately, heightened conversion rates.

This can be accomplished by employing methods like streamlining the checkout sequence, presenting a variety of payment alternatives, granting guest checkout capabilities, and tailoring the experience according to individual user preferences. Through ongoing scrutiny and fine-tuning of the checkout process, e-commerce enterprises can elevate customer contentment, nurture loyalty, and elevate their total revenue.
Reputation and Trust: Making the most of customer reviews
Displaying customer reviews are there so customers can get a perspective from your existing customers. You can feature consumer reviewers for your website and even for specific products. Ideally, you display these with the product images and a detailed description. If you don't have social proof from your customers, you could also consider showing ratings from Google or Trustpilot.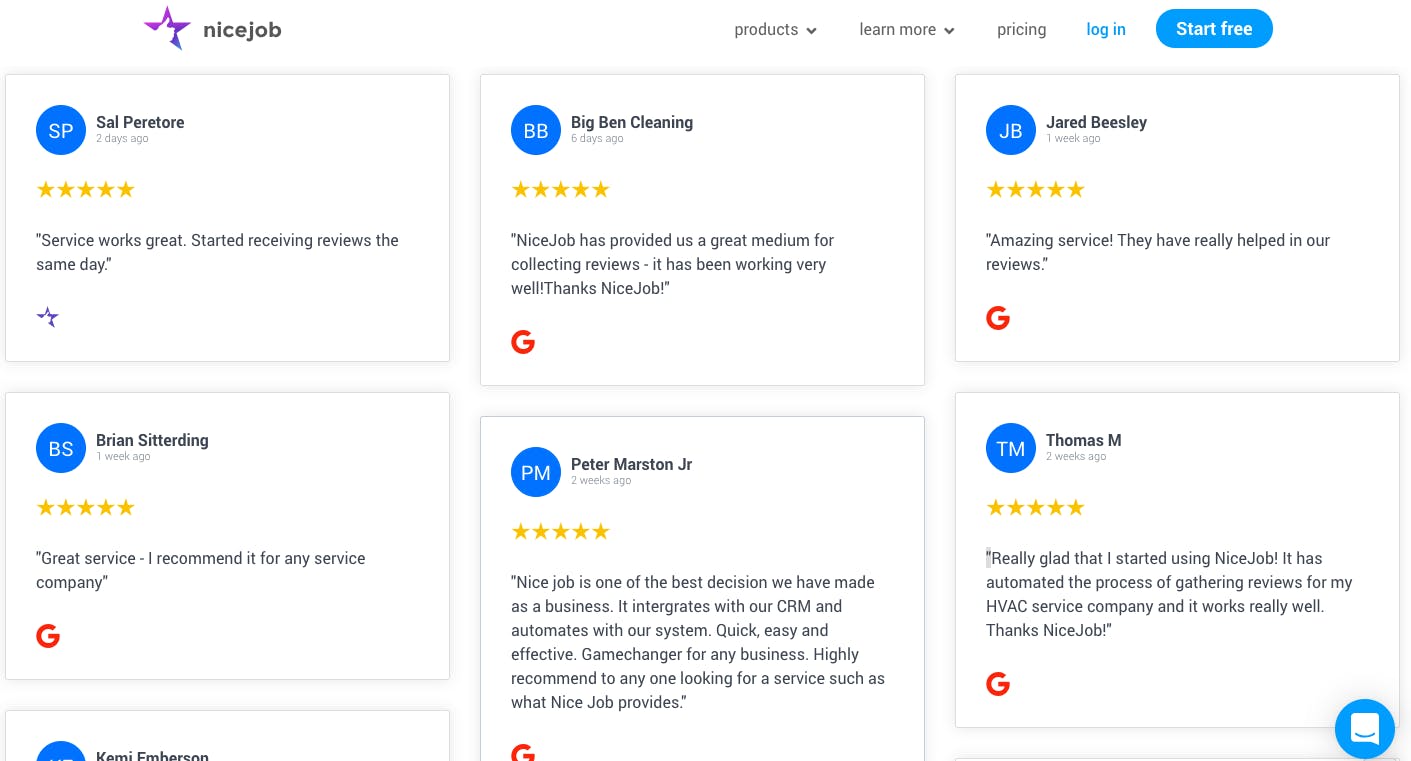 Shipping and payment method logos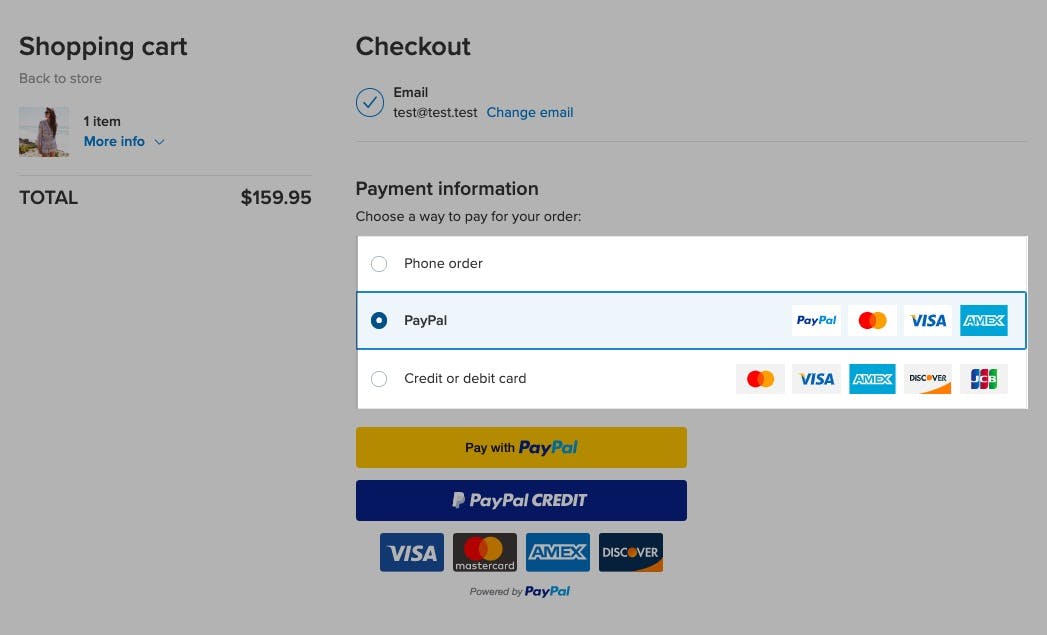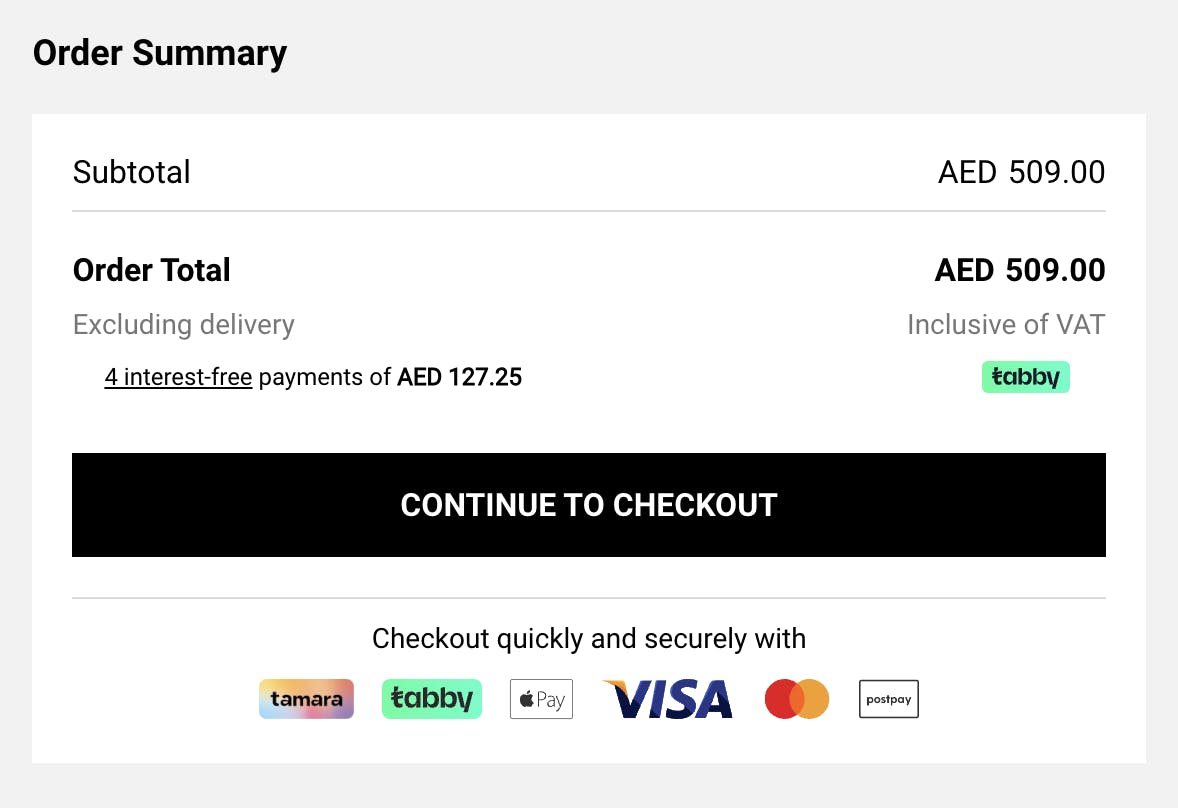 To build more trust, displaying shipping and payment method logos during the checkout process is essential. This assures your customers that your business is affiliated with trusted and reputable companies that consumers already know and trust.
Include security assurances
North American customers said a "secure" website had one of the most significant impacts on a "positive" shopping experience. However, going through additional security steps after customers confirm an order adds extra friction and negatively impacts their experience.
Many North American customers may need to become more familiar with additional eCommerce security layers such as 3D Secure, which have been mandatory for European merchants but also lead to additional friction in the payment flow. To streamline the checkout experience and prevent illegitimate payments, North American businesses must invest in robust fraud monitoring that can work in the background to detect and block fraud.
eCommerce businesses can promote buyer trust and security during the account creation process before checkout. For example, allow customers to check out as a guest, reducing the personal information you collect and store. If you require customers to log in to complete a purchase, give customers the ability to connect to their existing social media accounts. This keeps their personal information stored in the social media profile rather than on your website and helps expedite the checkout process.
The Top Three Buyer Trust and Security Errors
18% of checkouts did not allow customers to checkout as a guest
22% did not display an order summary that could be easily adjusted
90% did not allow customers to create an account by connecting to a social media profile
Checklist: How to Increase Buyer Trust
Security visuals: Display security visuals, such as a padlock, to reinforce the page's security.
Cart recaps: Show a summary of all items ordered to instil confidence.
Card brand: Automatically display an icon for the card brand (such as Visa or Mastercard) after the card number is entered.
Guest checkout: Allow customers to checkout as guests.
Account creation: Let customers create an account by connecting to their social media profile.
User Experience
Avoid pop-ups
Most internet users have developed an aversion to popups. It is therefore recommended to avoid using pop-up windows during checkout. Ideally, this is avoided entirely on your website. If you want to use this prompt for a special offer or a discount make sure that offer is given during the checkout experience without distracting the customer from the checkout process. Finally, a pop-up could hurt your website performance and potentially negatively impact your customer experience.
Guest checkout options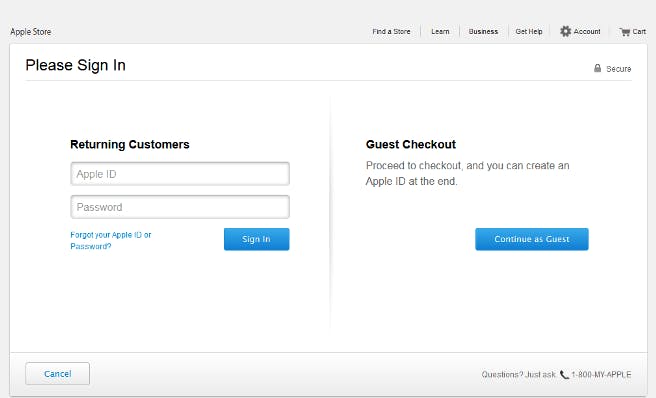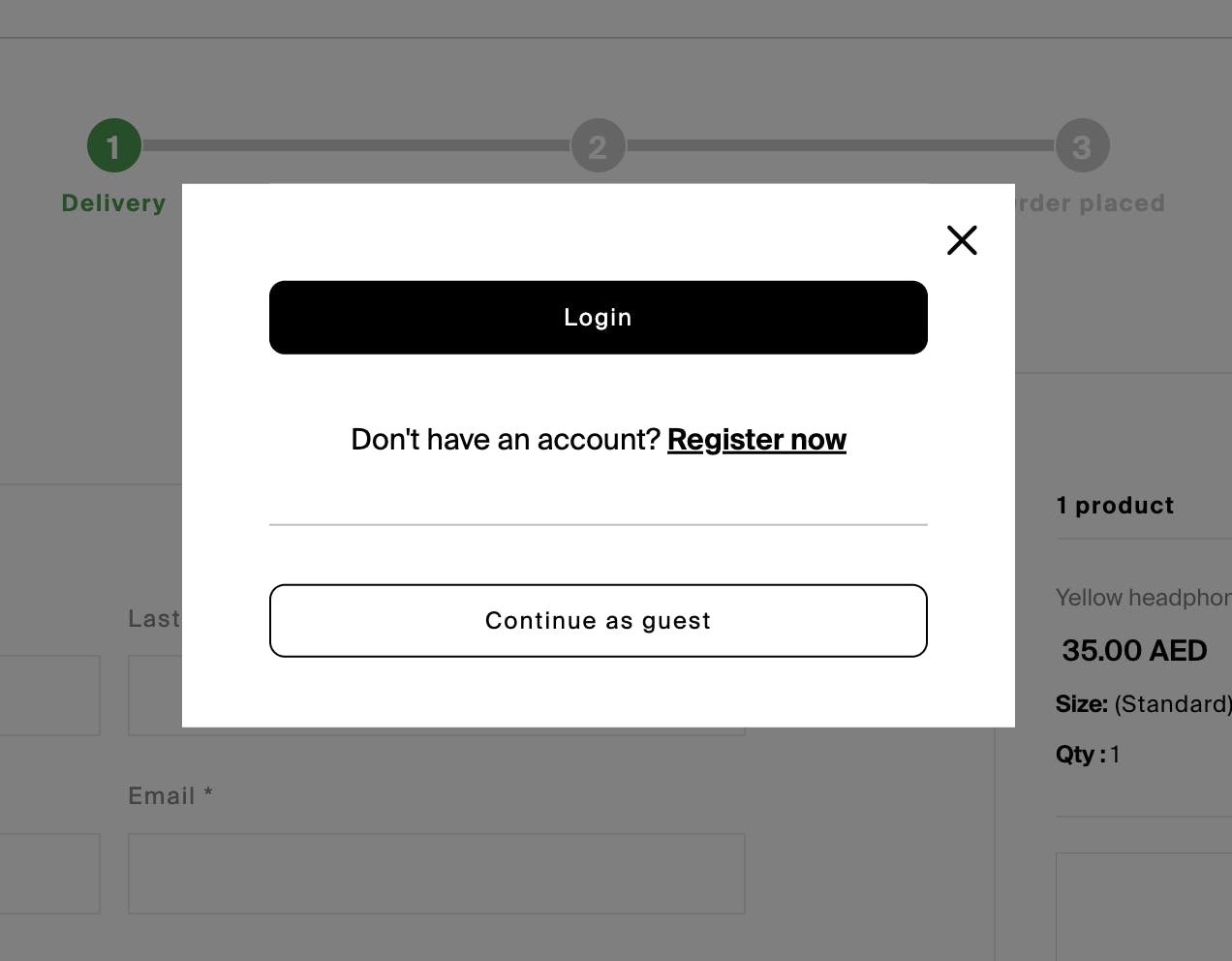 Forcing your customers to create an account during checkout can make it easier for returning customers and give them a faster checkout when they return to buy more! However, it creates a barrier for your new customers and slows them down. You could even consider testing a one-step checkout process and asses how this affects your conversation rate. It is essential to consider that not all customers would respond well to a one-page checkout process, as some users may feel less secure.
Minimise lengthy forms
To ensure the checkout process moves smoothly, keep things focused on the sale and avoid asking for unnecessary information. That means keeping forms minimum: name, email and address information, followed by payment details. Checkout is not the right moment to ask customers to sign up for newsletters, take part in surveys or other activities that are not directly related to their purchase.1.
Design a clear CTA on your checkout page
Your call-to-action shouldn't fit the same design as the rest of your page. Otherwise, the CTA will blend in with the rest of your e-commerce store, failing to draw your customers' attention. Instead, design your CTA to stand out and be featured prominently. In most cases, it should appear above the fold.
Using a slightly different design style can make it pop out at customers, draw their eye to the CTA, and motivate them to click.
Include a CTA on each landing page.


Every landing page your e-commerce site has should have a call-to-action somewhere. We recommend limiting landing pages to a single, clear CTA to avoid confusing customers. Your e-commerce site should be designed to guide visitors through purchase, and any landing page must have a CTA to do this.
Optimise for mobile devices
More than 50% of all online shopping is done on mobile devices. If you aren't optimizing your mobile experience, you will likely fall behind your competitors and miss out on sales. Optimize your site for mobile devices, ensuring that you consider the navigation and responsiveness of the design. Steadily improve your mobile experience to keep customers engaged and buying while on the go.
Fifty per cent of customers we surveyed said they do more than half of their shopping from a mobile device, with 62% saying it's "very" or "extremely" important for a website to be mobile-friendly. Customers are more likely to abandon the checkout flow if your e-commerce checkout flow isn't tailored to a smaller screen—for example, if the checkout page doesn't automatically adjust to the device's size. While over 50% of eCommerce traffic comes from smartphones, carts are abandoned on mobile at more than twice the desktop rate.
Supporting digital wallets, such as Apple Pay or Google Pay, can expedite the shopping experience on mobile. A separate Stripe analysis found that close to 37% of American consumers and 34% of Canadian consumers have either Apple Pay or Google Pay enabled on their devices, creating the opportunity for businesses to offer a one-click payment experience that, on average, is three times faster than having to enter payment details manually.
The Top Three Mobile Optimization Errors
76% of checkouts we analyzed did not support Apple Pay
88% of checkouts did not support Google Pay
13% failed to surface a numeric keypad to enter card information on mobile
Penetration of Digital Wallets

Checklist: How to Optimize for Mobile
Responsiveness: Ensure your form automatically resizes to the smaller screen
Keypad: Display a numerical keypad when customers are prompted to enter their card information
Wallets: Offer mobile wallet payment methods and ideally only surface them if you know they have been set up by your customer and are usable on their current device.
Use a progress indicator
Your checkout process mainly consists of multiple steps. That's why you should always display a sizeable step-by-step progress bar at the top of the screen, so your customer knows exactly which stage of the process they are in. Make sure the breadcrumb trail is visible and easy to understand.
A progress indicator displays where in the checkout process a customer is, and what steps are still to follow, and helps them gauge how long the process will take. This is especially useful for multi-step checkouts, which can be more complicated and challenging. These make the process simple for customers and guide the user through checkout.
Localisation
North American businesses need to support a local experience for their international shoppers, like adapting the payment methods they offer to their customer's locations. While cards are the predominant online payment method in the US and Canada, 40% of consumers outside the US prefer to use a different payment method. For example, bank transfers are Germany's most popular payment method, and almost one-third of Italian customers prefer to pay with a digital wallet.
Local Payment Methods Among Top European eCommerce Businesses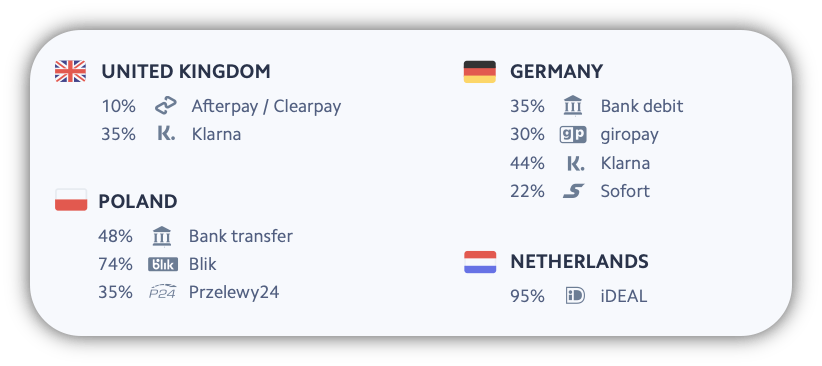 When we looked at the top North American eCommerce businesses with a presence in multiple markets, the number of payment methods they offered stayed the same. Instead, they successfully adapted their payment methods per country to optimize for local conversion. For example, the same North American e-Commerce business would offer Giropay for German customers, iDEAL for Dutch customers, and Przelewy24 for Polish customers.
We've seen the impact of local payment methods on checkout conversion. In a separate Stripe study, we analyzed the impact of accepting popular European payment methods for Austrian, Belgian, German, Dutch, and Polish shoppers. By enabling these methods, businesses saw a 40% incremental increase in sales, and transaction fees were reduced by 0.4 percentage points (while these cost savings may sound small, they can quickly add up).
Impact of accepting popular European payment methods on sales in Germany, the Netherlands, Austria, Poland and Belgium.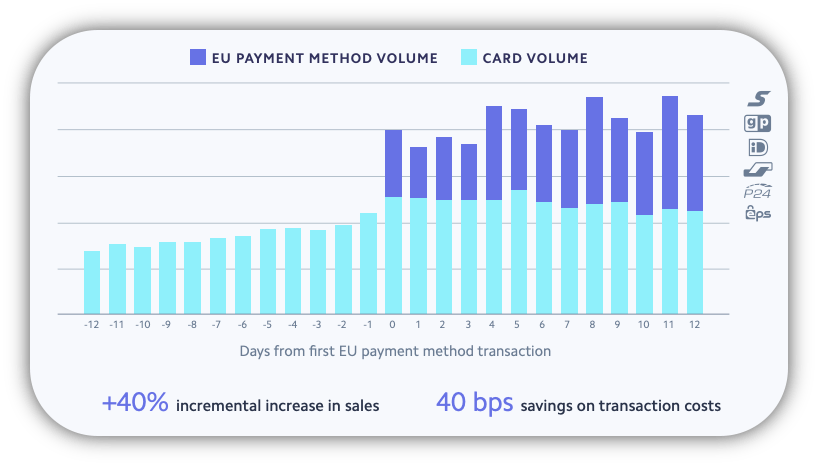 We estimated the increase in net new sales that could result from adopting a local payment method. We first predicted a business's sales volume if they had never adopted that payment method. Then, we analyzed the difference between actual sales volume and our predicted volume.
Supporting the correct payment methods doesn't only apply when expanding internationally; it can also be a way to offer your customers extra flexibility and convenience, especially for larger purchases. For example, buy now, pay later services let customers immediately finance purchases and pay them back in fixed instalments over time, which can increase sales.
Buy now, pay later payment methods

Checklist: How to Localize Your Checkout Experience
Language and currency: Identify the top countries you want to sell and make sure you localize the checkout experience by translating the page and displaying local currency.
Dynamic Fields: Change the payment fields to capture the correct information for each country. For example, if your form recognizes a UK card, you should dynamically add a lot for postcode.
Local payment methods: Dynamically surface the correct payment methods in your checkout depending on where your customers are located or which device they use.
Instalments: Consider offering buy now, pay later services if you have a high average order value and if they're popular where your customers are based.
Checkout Page
Checkout Form Design
Customers expect a fast, intuitive eCommerce payment experience, with 19% of consumers saying they would abandon a purchase if it took more than one minute to checkout. However, it takes 56% of customers, on average, more than three minutes to complete a purchase and 17% blame a long and complicated checkout experience as the reason for abandoning an order in the past year.
The highest-performing checkouts comprise dozens of minor optimizations executed seamlessly. For example, displaying descriptive error messaging when customers enter the wrong payment information, supporting address auto-complete, and allowing customers to save their payment information for future use. In a separate Stripe study, we found that offering address auto-complete can increase conversion by close to 0.8%, and using specific error messaging can increase retry rates following a decline by as much as 3.5% (for example, changing the message from "your card was declined" to "your card was declined. Try a different card"). These increases may seem small, but they can quickly add up—especially for eCommerce businesses with high transaction volume.
The Top Payment Form Errors
42% of top businesses made at least three mistakes when formatting payment information or displaying error messages; these mistakes include not alerting customers when they entered an invalid card number or tried to pay with an expired card
51% did not support address auto-complete
36% did not format card numbers in blocks of four digits for easier data entry
77% did not allow customers to save their payment information for future use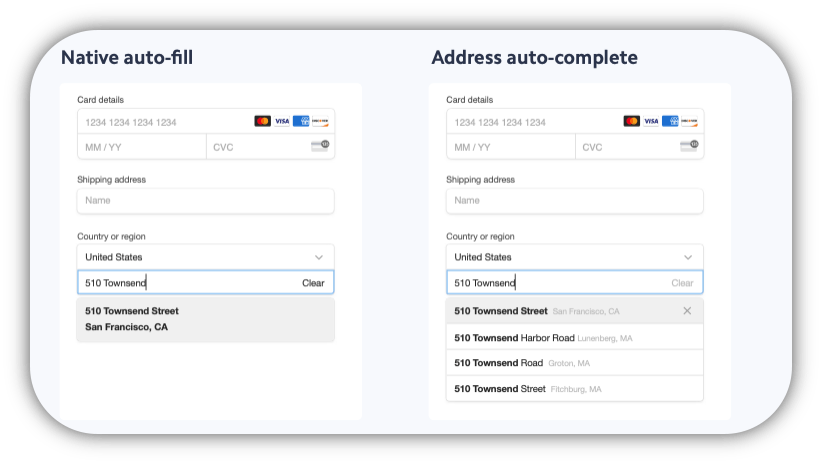 Checklist: How to Design an Optimized Checkout Form
Error messaging: Highlight payment information errors in real-time
Number formatting: Add spacing to card numbers, displaying them in blocks of up to six digits for easier data entry
Default address: use the same billing and shipping address by default unless customers want to add a different shipping address manually
Address auto-complete and auto-fill: Optimize address collection by supporting both native autofill (which uses information saved in a customer's browser) as well as address auto-complete (which enables typeahead completion)
Saved payment information: Allow customers to save their payment information for future use so they can check out with just one click
Display a summary of the order
Show customers a summary of their order before they submit it, including the products they're purchasing, the total cost, and any applicable taxes or discounts.
For subscription businesses
An increasing number of companies are turning toward subscription models as they can create a reliable revenue stream. In addition, consumers have grown accustomed to signing up for digital subscriptions, with our survey showing that, on average, North American consumers pay for 2.5 active subscriptions.
Like eCommerce companies that process one-time payments, subscription businesses should prioritize the same checkout optimizations we've covered: form design, mobile, localization, and buyer trust and security. However, there are additional optimization opportunities that are unique to subscription businesses.
The Top Three Checkout Best Practices for Subscription Business
44% offered a free trial
53% let customers enter a coupon code directly on the checkout page
16% provided reusable payment wallets such as Apple Pay or Google Pay
Post-Checkout
Send a confirmation email
After a purchase is made, send a confirmation email to the customer. This helps provide reassurance and serves as a reference for the customer if they have any questions or issues with their order.
Flexible Delivery / Pickup
Provide clear shipping information
Be transparent about shipping costs and delivery times. Display this information prominently on the checkout page so customers know what to expect.
Free shipping threshold
Consider offering free shipping for orders above a specific basket size. This can encourage customers to add more items to their cart to reach the free shipping threshold.
Fast shipping options
Offer fast shipping options for customers who need their order delivered quickly [Talk to a Quiqup expert about this option]. This can be an additional source of revenue, especially for customers willing to pay extra for faster delivery.
Estimated delivery dates
Provide estimated delivery dates during the checkout process. This can help customers plan their purchases and manage their expectations regarding when they will receive their orders.
Same-day delivery
Consider offering same-day delivery [Talk to a Quiqup expert to provide this] options for customers who need their order urgently. This can be a competitive advantage, especially for customers who need a product quickly.
Local pickup
If you have a physical store or warehouse, consider offering local pickup options for customers who prefer to pick up their orders in person. This can be a convenient option for customers who live nearby and want to save on shipping costs.
With Quiqup, Impress your customers even after checkout
Talk to a Quiqup expert to explore all available delivery options.